From The Free Lance–Fish Wrap:
Germanna Community College may lose state funding if it can't come up with its share for a third building at its Fredericksburg-area campus.

Last year, Gov. Tim Kaine presented a bond package that included $23.3 million for the building at the Massaponax site.

But before construction can start, the college needs to raise $2.6 million locally. Fundraising has barely begun.
Well, folks, instead of building the Daniel "Technology Center" (DTC) at Culpeper, you could have used the money to build Phase III at Fredericksburg (FAC III) years ago.
But, instead of expanding a campus that's located close to the population hubs of the area (Spotsylvania and Stafford Counties and the city of Fredericksburg), they decided to build a new campus in Culpeper.
Right now, there's talk of moving the nursing program that is currently located at the Locust Grove campus (LGC) to FAC III when it's complete. That would work well because of the new hospital that is being built by HCA at Massaponax.
Right now, the Daniel "Technology Center" in Culpeper — a 40,000 square foot building — is only hosting 30 classes worth a total of 90 credit hours. That's 444.44 square feet per credit hour.
Meanwhile, Phase II of the Fredericksburg Area Campus (FAC II) — also a 40,000 square foot building — is hosting 160 classes worth a total of 514 credit hours. That's 77.82 square feet per credit hour.
And if the campus in Culpeper is supposed to be a "technology center", it ain't doing a very good job of it. This semester, there are only two IT classes being taught at DTC worth six credit hours, and both of those classes are a basic Microsoft Windows and Office competency class (ITE-115).
Meanwhile, FAC II is hosting 32 IT classes worth 100 credit hours, including 22 Windows/Office competency classes, one computer science class, a computer-aided design (CAD) class, three database-related classes, three computer networking-related classes (including the first part of the curriculum that allows for Cisco Certified Network Associate certification), and two computer programming classes.
More than one instructor that I've talked to at Germanna has stated that it's impossible to get instructors to drive out to Culpeper, and when they do schedule classes out there, they only have two or three people sign up.
Real good use of $18,000,000, eh?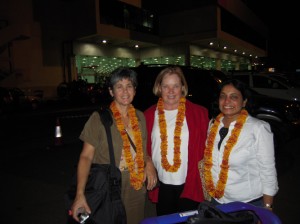 The college might also have money to build buildings if they didn't send their staff on vacations trips to India.
I guess it was one of those patented "working vacations" that Supervisor Wayne Acors and (former) Supervisor Calvin Taylor were talking about when they went to Hawaii to learn about rural roads (snort).
One regular donor to the college stated that he was seriously considering not donating any more to the college after the trip to India fiasco.
The college also needs to find a source of money to expand the parking lot at FAC, especially since their current parking capacity can't handle the number of students they have now! Who knows how bad the situation is going to be after they add another building to the mix?