In no way am I promoting vandalism and/or graffiti.
Poor quality cell phone picture with a 3x computer enlargement: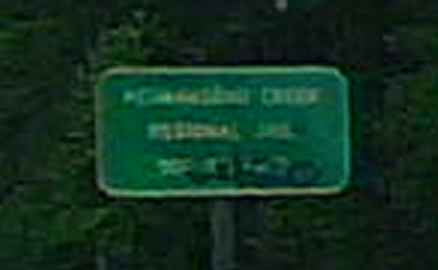 Full picture can be seen here.
420 means (Phish.net):
420 is a favorite number for a variety of reasons, but colloquially the number says pot — "let's smoke pot", or "someone's smoking pot", or "gee, i really like pot", or "time to smoke pot". It is celebrated and noted by time (4:20 a.m. or p.m.), date (April 20th), or in any other instance (e.g. State Route 420). April 20th at 4:20 is marked by annual events in Mount Tamalpais, CA (an informal gathering); Marin Conty, CA (the 420 Hemp Fest); Ann Arbor, MI (the Hash Bash); and Washington, D.C. (buildup towards the July 4th Smoke-In).
I'm sure there's a cell available at Peumansend for whoever did this, by the way. :)