From a recent story (get your own link):
Del. Chris Peace, R-Hanover, (whose district includes part of Caroline County) and Del. Scott Lingamfelter, R-Woodbridge, (whose district includes Fauquier County) also are unchallenged.
Yes, while Chris Peace's district — the 97th— does include a portion of Caroline County, it also includes a portion of Spotsylvania County as indicated by the map below: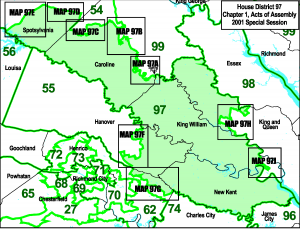 Spotsylvania County is obviously part of The Free Lance–Star's coverage area so they might want to correctly point out which districts are composed of what counties.
Of course, these are the same geniuses that think all of the 99th House district is part of the 28th Senate district; it isn't.