UPDATE: I forgot to mention that my idiot brother (shameless plug: check out his two hate-blogs, On The Right and Orange, VA Independence Day Tea Party) brought Cantor's vote to my attention.
I speak of the recently passed bill that will give the Federal Drug Administration (FDA) regulatory authority over tobacco products. Ironically, the bill was supported by the biggest cigarette maker out there: Philip Morris. Why? Well, check out what National Review Online had to say:
Last week, overwhelming majorities in both houses of Congress passed the Family Smoking Prevention and Tobacco Control Act, authorizing the Food and Drug Administration (FDA) to regulate cigarettes and other tobacco products. The New York Times proclaimed the bill an "enormous victory for public health." President Obama, himself a sometime smoker who reportedly struggles with nicotine addiction, declared that the legislation "will protect our kids and improve our public health" and is expected to sign it later this week. The bill grants the FDA expansive new regulatory authority, but more regulation does not guarantee greater protection of public health — or the public good.

Anti-smoking groups, such as the Campaign for Tobacco-Free Kids, have long sought FDA regulation of tobacco products and called passage of the bill a "historic victory." Sen. Edward Kennedy and Rep. Henry Waxman, the bill's primary sponsors, have sought greater tobacco controls for years. Sen. Dick Durbin proclaimed that the legislation will "protect children and protect America" from the scourge of cigarettes and nicotine addiction. Interestingly enough, the bill also had support of the nation's largest cigarette manufacturer, Philip Morris, and its parent company, Altria. That alone should clear away some of the euphoric haze surrounding its passage.

[…]

Manufacturers will be required to place expanded warning labels on their products and to provide the government with more detailed information about cigarette contents and smoking by-products. The law also bars flavored cigarettes — save for menthol. As the Wall Street Journal reported, "Menthol cigarettes are initially exempt from the ban because of demands from the Congressional Black Caucus. About 75 percent of African-American smokers buy menthol brands." The leading maker of menthols is Philip Morris.

[…]

Limiting tobacco advertising and stalling the development of new tobacco products won't help public health, but it will certainly benefit the nation's largest cigarette manufacturer. Government regulation is the most tried-and-true way for incumbent firms to squelch smaller competitors, which helps explain why Philip Morris supports the bill and smaller tobacco companies oppose it. Harder to fathom is why public-health advocates who should know better celebrate the law as a major advance.

The Family Smoking Prevention and Tobacco Control Act is revealed as yet another Beltway deal for Big Government and Big Business. Those who proclaim it a victory for public health and the public good are blowing smoke.
And here's what Forbes had to say about the bill:
Their [Philip Morris'] reasons for cheering aren't all so high minded. The bill, already passed by the House of Representatives, will change the face of the tobacco industry by giving the FDA the authority to restrict tobacco product ingredients, impose nicotine caps and limit advertising campaigns. It solidifies the position of the producer with the greatest market share–Altria–which makes 50% of all cigarettes in the U.S.

Because the domestic cigarette market is shrinking every year, manufacturers are competing fiercely for customers. Companies like R.J. Reynolds and Lorillard Tobacco argue that under FDA regulation, they'll have trouble convincing people to switch to their brands because of stringent advertising restrictions. That means no more sponsorship of sports and entertainment events, color or photo ads in publications with significant teen readership, or free gifts with tobacco products.

"Bringing new products to market will be extremely difficult," says Maura Payne, a spokeswoman for Reynolds America, which owns R.J. Reynolds, maker of Camel, Winston, Doral and other cigarette brands.
Anyway, to get to the the point of my post, check out these two pages of Eric Cantor's most recent personal finance disclosure form available via OpenSecrets.org (PDF):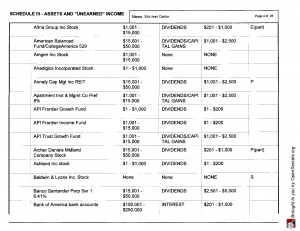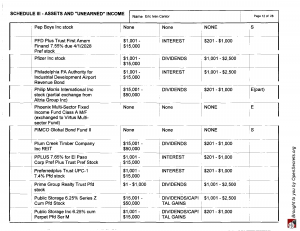 Yeah folks, he owns between $15,001 and $50,000 in stock of Philip Morris and between $1,000 and $15,000 of stock in their parent company Altria Group. So, Eric Cantor voted to give a government enforced majority market share to a company that he has a financial interest in. Isn't that a violation of the House's ethics rule? If it isn't, it sure as heck should be.
And here's a bigger issue. A couple weeks ago Cantor was at the Republican Party of Virginia convention talking about how he wanted smaller and less intrusive government and blah blah blah, but when it comes down to an vote that will increase the size and scope of government and benefit a company that he has a financial desire to do well, that goes out the door.
And if cigarettes are so dangerous and so bad that they need to regulated by the government, why is he making money off their production and sales? Isn't that like accepting blood money?
Up Next: Let's correlate campaign contributions and how politicians vote…