I just noticed today that I was no longer a "follower" of Representative Rob Wittman and when I tried to "follow" him I got the following message: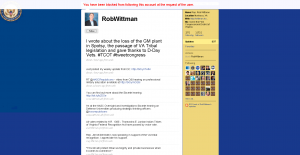 I'm going to have to guess it has something to do with this exchange:
Rob Wittman at 9:51 AM May 29th: "Taxpayers owe an additional $55,000 a household for the Gov's spending in the last year, which is a 12% increase. #TCOT"
I replied at 10:06 AM May 29th with: "@RobWittman Didn't you vote for that $290,000,000,000 farm bill in 2008? How much did that cost per household?"
My Lord, that man is a baby. I make one sarcastic, yet truthful, comment and he runs and hides. Folks, this is the man that we have fighting for your interests in Washington, D.C; a man that runs from an "insignificant" "leftist" "hate-blogger".
Not to mention that it doesn't prevent me reading what he posts on Twitter, after all I have a RSS subscription to his feed already.