§ 24.2-310. Requirements for polling places:
E. It shall be permissible to distribute campaign materials on the election day on the property on which a polling place is located and outside of the building containing the polling place except as specifically prohibited by law including, without limitation, the prohibitions of § 24.2-604 and the establishment of the "Prohibited Area" within 40 feet of the entrance to a polling place.
§ 24.2-604. Prohibited activities at polls; notice of prohibited area; presence of representatives of parties or candidates; simulated elections; penalties; neutral observers; news media.
A. During the times the polls are open and ballots are being counted, it shall be unlawful for any person (i) to loiter or congregate within 40 feet of any entrance of any polling place; (ii) within such distance to give, tender, or exhibit any ballot, ticket, or other campaign material to any person or to solicit or in any manner attempt to influence any person in casting his vote; or (iii) to hinder or delay a qualified voter in entering or leaving a polling place.

[…]

E. The officers of election may require any person who is found by a majority of the officers present to be in violation of this section to remain outside of the prohibited area. Any person violating subsection A or D of this section shall be guilty of a Class 1 misdemeanor.
Apparently, the Harvey Latney supporters don't seem to understand that. Mrs. Calvin Taylor and as identified to me, Latney's uncle and aunt: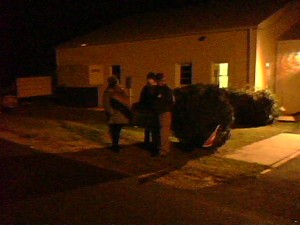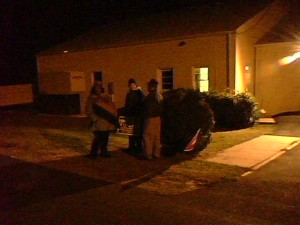 I guess the rules don't apply to them.
They were told to move the sign once it was brought to the attention of the election officials (by the way, the sign on the right is one advertising the fire department as the polling place and not a sign for a candidate).
In other news, Robert Wittman (or one of his helpers) doesn't know how to drive. A Jeep Cherokee with House of Delegates tag 99 (as in the 99th House of Delegates district) was seen flying through Port Royal at what appeared to be around 40 MPH (the speed limit once you turn off of Route 301 is 25 MPH). He was seen swerving around on the road as well.
And in closing, I would just like to say thanks to you Maxie Rozell and Pamela Mastropaolo!